We have organized a product launch for the Brandt brand in Copenhagen, in collaboration with Maison Link. If you'd like us to help you organize a product launch in Copenhagen or Scandinavia, please don't hesitate to contact us.
We had the chance to collaborate with La Maison Link, a press relations agency, very strong in the consumer and lifestyle sectors. A public relations consulting agency, founded 20 years ago within the Publicis group, combining expertise and creativity, it is recognized for the quality of the content it disseminates. The Maison Link helps brands to build a special relationship with their targets by proposing personalized recommendations.
Maison Link wanted to launch a low-energy and water-powered washing machine for the Brandt Group (the leading French group in the manufacture of household equipment products under four important brands: Brandt, De Dietrich, Jump, and Vedette).
For the occasion, Maison Link chose Copenhagen, an iconic city in ecology, sustainable development and energy transition.
Green Capital of Europe in 2014, Copenhagen has hundreds of kilometres of bike paths, thousands of self-service city-bikes, as well as hotels, shops and citizens who sort their waste, collect water from rain to water the garden. Its eco-neighborhoods, air quality and water purity bear witness to an eco-citizen city using renewable energy resources.
The collaboration between Brandt, La Maison Link and NORDIC INSITE resulted in a rich series of events with a renewable energy profile, over 2 nights/3 days, bringing together some thirty participants from both internal forces and the press.
As an actor in events committed to responsible development, we decided to organise a sustainable product launch. We strived to minimize our carbon footprint throughout the planning stages of the project.
Sophisticated logistics ensuring the responsible transportation of 10 washing machines from France contributed, together with Carlson Wagonlit Travel, to calculating a carbon footprint for each participant using the ADEME method. Several of our participants therefore chose the train as an eco-friendly means of transport from Paris.
The creation of the scenographic universe and the imaginary world surrounding the product, based on the codes of Nordic philosophy, was an obvious choice.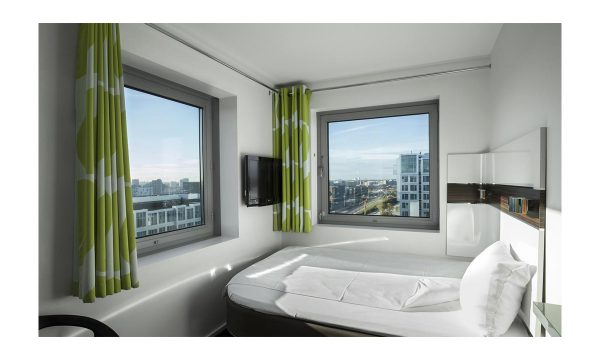 We chose to house our participants at the Wakeup, a hotel created by the famous Danish architect Kim Utzon. This minimalist design hotel stands out above all for its sustainable reduction in electrical energy consumption :
Use of recycled materials and local products during the construction of the hotel
Air conditioning and electrical installations with low energy consumption
Sorting and recycling of waste
For the catering part, we obviously appealed to local artisans offering organic and seasonal products transported by bike. Finally, for on-site transport, we preferred public transport.
We managed to organize a series of environmentally friendly events, fully in keeping with the responsible logic of sustainable development, far exceeding the expectations of our customers.
On the manufacturer side,after working intensively on a project, it is always rewarding to participate in the launch of the product. This is an opportunity to invite all the people who participated in the project and to thank them for a new creation, thus consolidating corporate culture and its commitment to employees.
On the customer side,the purpose of presenting a new product remains the sales drive. Launch events allow a better visualization of the product and its positioning. It is this identity and image of the product which will then be communicated and transmitted by the press and the guests.
Decoration and scenography are two essential elements to illustrate the theme of the product.
Would you like to launch your product in Copenhagen or Stockholm? Discover our offer or contact us directly.